Teachers from T4 Education's global community tell Salman Shaheen how they are adapting to the rapid digitisation of classrooms in the post-lockdown world. 
COVID has transformed classrooms forever. Overnight teachers around the world turned to technology where they could to keep their students learning as schools closed. What at first came as a shock to the system for many, however, has led to a lasting change in teaching and learning as schools have reopened. Teachers in T4 Education's community from every continent tell us that COVID has led to the rapid digitisation of their classrooms. As Marcela Villan, an environmental education teacher at Modern School in Argentina puts it: "There is no coming back."
"Teachers have become more tech savvy, they are using various EdTech tools effectively to enhance learning and stimulate the learner's mind,"

Anita Singh, Vice Principal of Shining Star International School in the UAE
Some teachers report the uptake of technology as a result of the pandemic has led to a better workflow with faster communication between students, teachers and parents. As South African education expert Jasmane Frans tells Elevate: "Collaboration and creativity have been improved and the confidence levels of students to voice themselves on and offline regarding their learning is on the increase across schools globally."
The tools and techniques transforming classrooms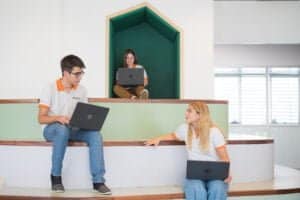 In Bosnia and Herzegovina, Visual Art teacher at Libyan School, Doaa Dawoud, describes how students, boys and girls alike, particularly took to coding after the school reopened, with Minecraft a key tool she used. Minecraft also proved popular for teachers we spoke to in India and Canada.
Lynn Thomas, a teacher at Dunnville Secondary School in Canada says: "Minecraft is very popular with my students so I feel I didn't have to do a lot of introduction of this technology. In fact, the students have done most of the teaching – to me and to each other. Allowing the students to act as mentors to students who are less comfortable with the game was very successful and built collaboration, communication, confidence and responsibility into the project.
She is also using more multi-modal options, such as infographics, videos, audio clips, and artwork for students to showcase their learning through a project-based learning model with mini workshops as opposed to just assigning textual based projects.
"I used a project-based learning model where the students were able to choose their preferred topic, learn and research about it and then showcase their learning in their preferred method. Depending on what method the students chose, for example infographics, podcasting, videography, etc., they participated in mini-workshops focused on their preferred modality," she says.
In India, Kalyani Rao B, who has used Minecraft as well Buncee, Book Creator App, Flipgrid, Wakelet, Kahoot, and Sway, to aid in learning, says: "I believe the learners of 21st century need to be equipped with content knowledge and 21st century pedagogical skills- communication, collaboration, creativity, critical thinking, research, values, digital citizenship and solving real global issues, by inculcating sustainable development goals in every project."
Singh says pedagogical models she adopted to introduce tech into her classroom included peer learning, cross curricular learning and pursuing creativity. Padlet was used for assessment for learning during the lessons. This helped teachers change their strategies and modify lessons to enhance learning. Students recorded videos using Flipgrid on a given topic, sharing their findings with their tutors.
"One Note was an effective tool to promote collaboration among students. Integrated Learning Projects based on student competency framework enhanced research based cross-curricular learning, leading to deeper understanding of different topics," she says.
Meanwhile, gamification has boosted creativity and engagement among her students.
Impact on learning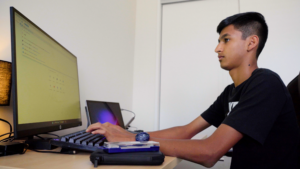 As well as creativity, teachers report the increased use of tech in classrooms and blended learning has improved cooperation, communication, problem solving and learning by self-discovery among students. Dawoud says it has helped build greater engagement among girls. Teachers report students are having more fun learning. Thomas says it has helped her pupils engage with English Language and Literature where previously they had been disinterested.
"Teachers have made a transition from the traditional methodology of teaching to being a facilitator in the classroom guiding the students towards independent learning," says Singh, who admits she was hesitant to adopt tech before COVID but has now become highly skilled in its use. "Lessons planned are more concept and skill-based rather than content based. This has led to students being better engaged and taking ownership of their learning. Flipped classes empower students being independent and responsible learners."
Challenges to overcome
Despite the rapid uptake of technology in teaching post-lockdown and the significant benefits educators observe, barriers to access in many parts of the world remain a concern.
In Malaysia, Roger Chu Lin Toh, a teacher at SJKC Mak Mandin, says he allows those pupils in his class whose access to technology is more limited than their peers two days extra to submit work because they are only able to use their parents' devices at night. The school also lent laptops to pupils from poorer backgrounds.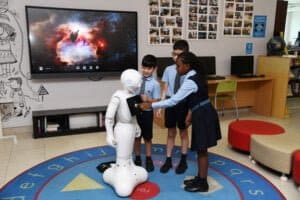 In India, Kalyani Rao B, whose students also face challenges with poor connectivity and a lack of devices, is determined to persevere with tech, which she uses to take her students on virtual tours to develop their research skills and has them take part in global collaboration projects.
"My advice is to engage with many educators around the globe and keep engaging their young learners tirelessly, to achieve success in teaching them to create lively classroom experiences," she says.
Thomas also stresses the importance of learning from her peers to see how they were adapting to the increased use of tech in the classroom.
"Twitter and other educational networks I am involved in helped with this tremendously since not many teachers in my building were doing these things when I started," she says. "Learning how other teachers approached these challenges and methods helped me to devise my plans for my particular situation. It also helped me understand the practical and logistical side of implementing them. Had I not been prepared at least a little about the logistics and practical side of things, I would have been extremely frustrated and might not have pursued using them like I do now."
It is a brave new world teachers face where EdTech will play an ever-increasing role in their lessons. Technology brings some great opportunities, but also fresh challenges as teachers have to grapple with inequality of access and also new and evolving skills required to use EdTech effectively to improve learning outcomes. But one thing is certain. The pandemic has opened the bottle, the genie is out and it is never going back in. Teachers will need to collaborate not just across schools, but across borders, share good practices and learn how best to harness tech for the good of the next generation.