We're standing at the edge of a new era, an era where our actions today will determine the fate of our planet tomorrow. The United Nations paints a grim picture of our current trajectory, with human activities pushing nearly 1 million species of flora and fauna towards extinction. This isn't just an environmental crisis, it's a crisis of education, of understanding, of action.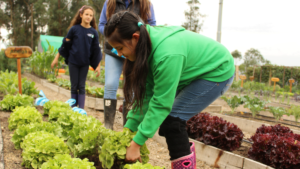 Enter "green skills". These are the tools we need to navigate this brave new world, the skills that will empower us to make a difference.
International Youth Day this year happens to be shining a spotlight on these "green skills", which goes to show their importance for the world our next generation will inherit. It's a call to action, a reminder that we're not just preparing our youth for the world, we're preparing the world for our youth.
Green skills aren't just about understanding the mechanics of renewable energy or the principles of sustainable farming, although that's part of it. They're about fostering a deep respect for our environment and preparing our students for a future where green jobs will be the norm. Many educators now see that it's their responsibility to ensure students  are aware of the environmental challenges we face, and equipped to tackle them head-on.
Understanding green skills in sustainable development
Let's talk about green skills in the context of sustainable development. They encompass both technical abilities and soft skills too. They're about critical thinking, problem-solving, and decision-making, all within the context of sustainability. They're about empowering individuals to make informed decisions that benefit not just the environment, but society and the economy too.
Interested in developing or optimising a green skills project? Download our School Transformation Toolkits to get started on your own journey.
The role of green skills in education
Green skills aren't confined to a single subject or discipline, they're a thread that weaves its way through our entire curriculum. They're about fostering a holistic understanding of sustainability. They're about turning our schools into incubators for environmental awareness and responsible behaviour.
Take Bonuan Buquig National High School in the Philippines, for example. Despite being located in an area prone to typhoons, flooding, and strong winds, the school community has shown an unwavering commitment to environmental restoration and sustainability through their Mangrove Planting Project.
Or the Green School Bali in Indonesia, with its bamboo campus and curriculum that places a strong emphasis on sustainability. Students there are engaged in projects like building bamboo bicycles, managing organicgardens, and even running a student-led bio-bus initiative that converts used cooking oil into biodiesel.
And let's not forget the International School of Zug and Luzern in Switzerland, with its dedicated Sustainability Committee that organises various initiatives, including a zero-waste week, a clothing swap, and a biodiversity project to create habitats for local wildlife on the school grounds.
Essential skills for education for sustainable development
Green skills are the key to unlocking a sustainable future. They're about equipping the next generation with the knowledge and abilities to address environmental challenges and contribute to sustainable development. They're about shaping a greener future.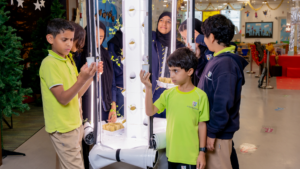 Critical thinking and problem-solving skills enable students to understand complex environmental issues and devise innovative solutions. For example, students might investigate the causes and effects of climate change, then brainstorm and evaluate potential solutions.

Collaboration and communication skills foster teamwork and effective dialogue on sustainability topics. Students might work together on a project to reduce waste at school, then present their findings and recommendations to the school community.
Adaptability and resilience equip students to navigate the uncertainties and changes associated with environmental challenges. For instance, students might explore how communities adapt to natural disasters or how ecosystems recover from disturbances.
Green skills examples
Let's go into the world of green skills – some of the tools that will shape our future. They're not just buzzwords, they're the building blocks of a sustainable education, which include environmental literacy, a sustainability mindset, resource efficiency, and climate change adaptation.
Environmental literacy is about understanding the intricate dance of ecological principles and the environmental impacts of our actions. It's about learning the rhythm of the carbon cycle, the effects of deforestation on biodiversity, or the environmental footprint of our food choices. It's about seeing the world through a green lens.
A sustainability mindset is about recognising the interconnected web of social, economic, and environmental systems. It's about striving for balance, like a tightrope walker delicately traversing the rope of sustainable development. It's about engaging in conversations on how to harmonise economic growth with environmental protection and social equity.
Resource efficiency is about being a good steward of our resources. It's about the three Rs (reduce, reuse, recycle), conducting an energy audit of our schools, or designing a product that uses resources efficiently. It's about making every drop count.
Climate change adaptation is about understanding the shifting sands of our climate and developing strategies to weather the storm. It's about studying the effects of climate change on different regions or species, then proposing adaptation strategies for a community or ecosystem. It's about being resilient in the face of change.
These are some examples of green skills. They are for learning and also doing. For making a difference.
Shaping a greener future
Green skills are the linchpin of our future. They're a rich tapestry of competencies, from technical prowess to critical thinking and problem-solving, all woven together with the thread of sustainability. These skills are the tools we need to arm the next generation with the knowledge and abilities to tackle environmental challenges and contribute to sustainable development.
Around the globe, schools like Bonuan Buquig National High School, Green School Bali, and the International School of Zug and Luzern are blazing the trail. They're demonstrating the transformative power of green skills, showing us how they can shape a sustainable future.
The urgency of our environmental challenges is a clarion call: we must arm our students with green skills today if we want a sustainable world tomorrow. By integrating these skills into our educational systems, we're not just teaching our students about the world – we're preparing them to reinvent it. The future of our planet hinges on our actions today. Let's make green skills a cornerstone in our schools and lay the foundation for a more sustainable future.
Join the T4 Communities app for more resources on green skills, including expert-led Spotlight sessions and peer-to-peer learning opportunities. Let's make a difference, together.